Tell me about Firewatch!
Firewatch is a single-player first-person video game where you, as a man named Henry, explore the Wyoming wilderness after taking a summer job as a fire lookout. What is supposed to be a peaceful respite from your complicated life takes a turn when you start to question some of the things that are happening to you.
Your only human connection is over a handheld radio, which you'll use to speak with your supervisor Delilah about the things both of you are experiencing.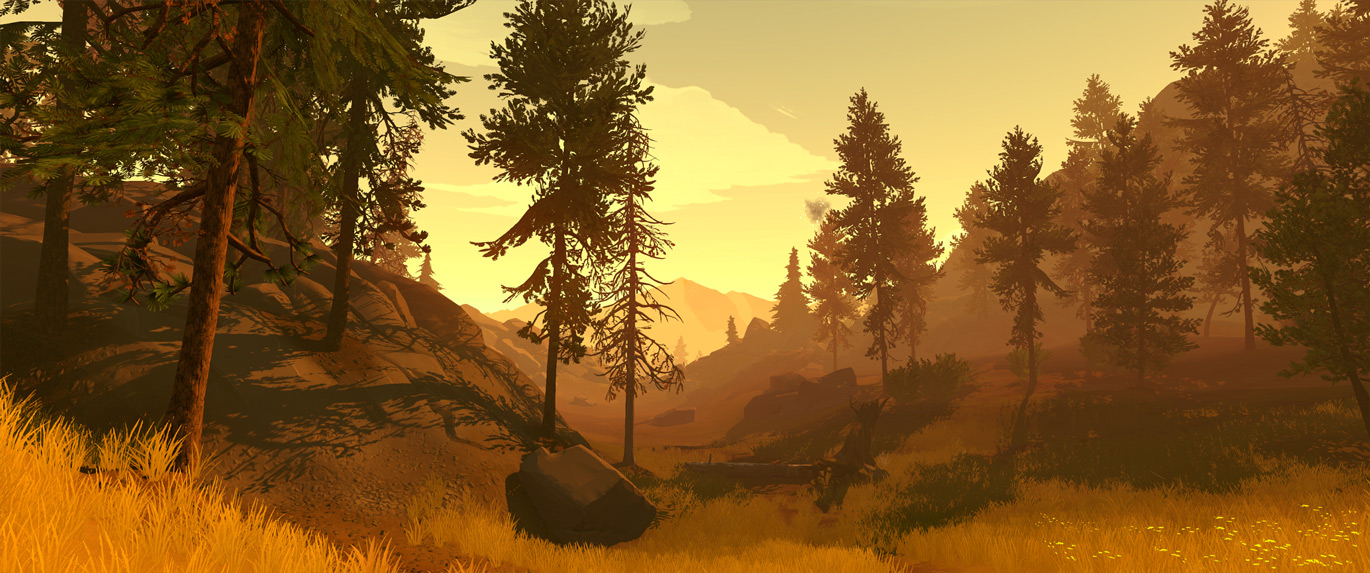 Well, that's a real tease.
Firewatch is incredibly story driven! To tell you more would be to deprive you of the joy of discovery. You're going to forge a living, breathing relationship and uncover a tense, unexpected mystery.
I'm not here to learn about Firewatch. I've got a problem with my copy of the game! Or my in-game photos!
Please visit our support website.
If you're playing the Windows, Mac, or Linux version of the game, check out the Firewatch Steam forums because we might have already solved the problem.
P.S. Video game development is very hard. We'll try to solve your issue quickly and to the best of our abilities.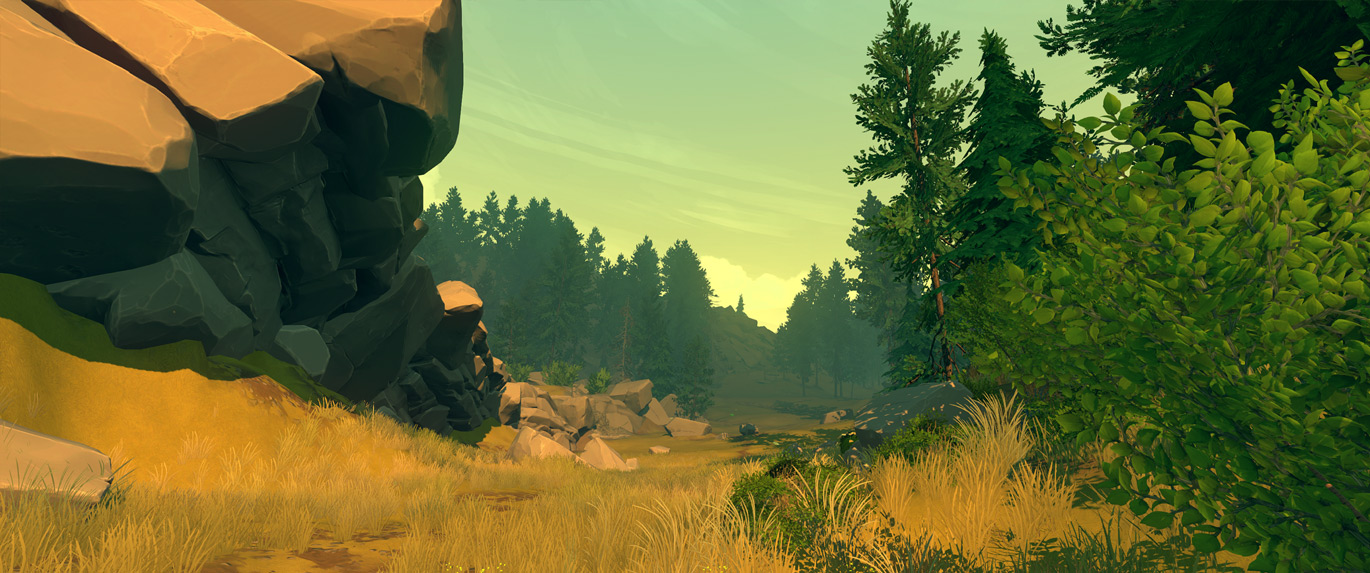 What about the soundtrack?
You can buy the game's original soundtrack digitally on Bandcamp or Steam, or on vinyl from our store.
Can I get a hard copy?
Not currently! We don't have plans to bring it to store shelves (or online store shelves), but we'll announce it if that changes.
What about VR support?
We have no plans to release the game in VR right now, but we've collaborated with a few friends to bring elements of Firewatch into virtual reality. For free!
If you have an HTC Vive, visit the Firewatch tower that our artist Jane Ng created for Valve's Destinations.
And earlier this year, Campo Santo's Sean Vanaman and Jake Rodkin appeared on the debut episode of the The Foo Show, a VR-only interview experience that incorporated Henry's tower. Get it for HTC Vive and Oculus on Steam or the Oculus store.
Will Firewatch be localized to my language?
Firewatch has localized subtitles on Windows, PlayStation 4, Xbox One, Mac, and Linux in Russian, French, German, Spanish, and Simplified Chinese.
We hope to add more languages in the future. Stay tuned!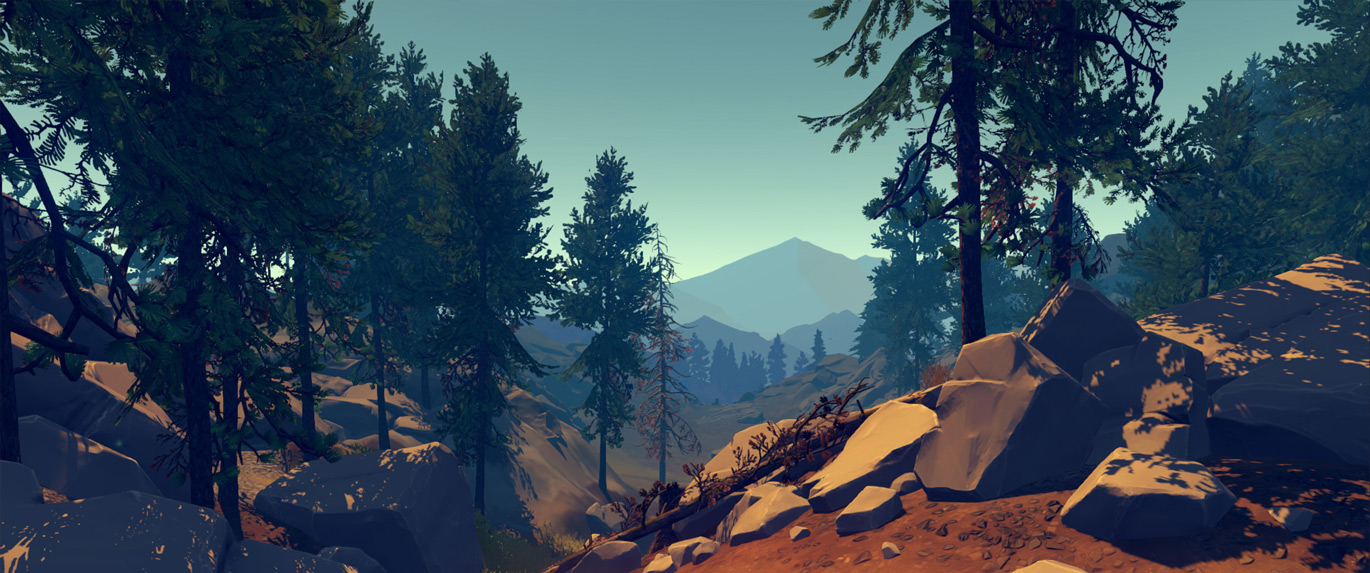 Can I stream this game? Can I make money off of those streams?
Yes. We love that people stream and share their experiences in the game, and we extend the priviledge of streaming and monetizing our games on Twitch, YouTube, Steam, and elsewhere to our customers.
Streaming and Let's Plays are implicit but revokable privileges, and if you happen to be among the very, very, very, very few players who use your platform to spread hate or harassment, we would prefer that you not use our games in your content.
It doesn't hurt to let us know on Twitter when you're live. We might show up in your chat!
Who made this?
Firewatch was developed by Campo Santo, a new independent video game studio in San Francisco. This is Campo's first game, but its members have made some games you might have enjoyed, including Mark of the Ninja, Brutal Legend, The Cave, BioShock 2, and The Walking Dead: Season 1. Learn more about Campo at our company site.
Who was your publisher?
Firewatch was published as a joint venture by Campo Santo and Panic Inc., a Portland-based software company. This is the first major video game release from both companies, and you can read more about their relationship here and here.
Could you tell me more about your development process?
You should browse the development blog. You can find art and process posts, photos from the studio, livestreams, team Q&As, and more.
That Firewatch art is great! I'd love it on a poster or something to drape over my sculpted body!
We occasionally release very limited-run screen-printed posters on our company store. But when we're not doing that, we're still selling t-shirts and all sorts of other goods!
What technology was Firewatch built with?
Firewatch is being developed in Unity with lots of help from the add-on community. Along with many other tools, the game world makes use of Make Code Now!'s SECTR Complete, an excellent piece of Unity scene streaming middleware. We're also using proprietary dialogue and event tools, which we may talk about on the dev blog.
©2016 Campo Santo, in cooperation with Panic.
Firewatch is a trademark of Campo Santo.